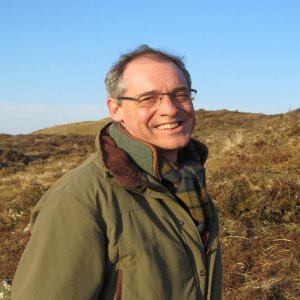 BIOGRAPHY
I grew up on a hill farm in Cardiganshire and an early interest in fishing and shooting kindled an interest in the wildlife and landscape around my childhood home near Aberystwyth. Inspired by the art of Sir Peter Scott and Charles Tunnicliffe, I started drawing and painting birds when I was 12. I decided to paint in watercolour, despite it being a challenging medium, because I like the way that it conveys atmosphere in elements of my work such as sky and water.
After working in advertising sales in London for 8 years I returned to the family farm with my wife and young family in 1985 to start a career as a professional artist. Since then he I have established a reputation as one of our leading wildlife artists with work being included in private collection in the UK, the USA and Europe. In 2003 I was commissioned by the Royal Household to paint a watercolour as their 21st birthday present to His Royal Highness the Duke of Cambridge and delivering it in person to Buckingham Palace was an important day in my career as an artist.
My work has been reproduced in numerous books including 'Birds in Wales' (Poyser), The Illustrated Encyclopaedia of Birds (Headline) 'Wildlife Factfile' and 'Geiriadur Gomer I'r Ifanc' (Gwasg Gomer).
In recent years I have become heavily involved in the study of woodcock through ringing and fitting trackers to find out about their migration between their breeding grounds in Russia and wintering in West Wales. Unsurprisingly woodcock often feature in my paintings.