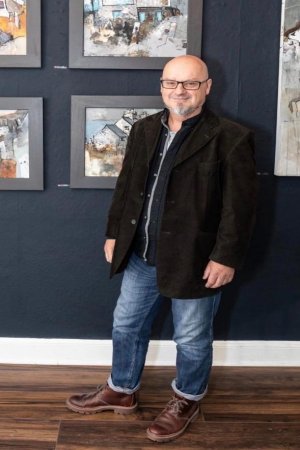 BIOGRAPHY
I'm a contemporary artist working from studios in Aberystwyth's Old College and Upper Swabia, southern Germany.
I'm inspired by vernacular architecture of the Celtic Fringes and like to tap into the special energy of place.
From initial sketches in the open, I refine and rework images in the studio, creating work which is full of energy and tension. It celebrates the beauty and dignity of humble buildings.
I enjoy collaging everyday objects into my paintings, there are often pieces of coffee cups, maps and corrugated cardboard to be discovered. Portions of each painting are retained as drawn elements to reflect the fragility and temporality of the structures. My work is part representation, part visceral interpretation.