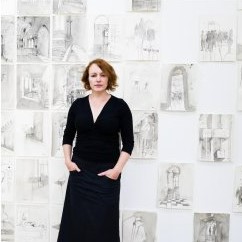 BIOGRAPHY
My starting point is always drawing. Something will catch my eye, it can be anything from the evening shadows on the side of a chapel, to the line of a dog's lead walking the promenade. My surroundings in West Wales provide endless inspiration, particularly around my home by Aberystwyth Harbour.
My ink drawings are about spending time looking and being in the moment. The white spaces are as important as the ink and watercolour marks, leaving room for the viewer to complete their own story.
Paintings can follow from the drawings. I often paint on found pieces of wood or board, I like the matt surface and how the shape and grain suggest the picture. Collage sometimes provides another contrast or starting place. In addition to the process of meditational drawing I'm interested in exploring ideas of connectivity between people and their environments, and simplifying landscapes to their essence.
I studied Foundation Art at Carmarthen College of Art, BA (hons) Fine Art at Winchester School of Art and a PGCE followed by MA Fine Art at the University of Wales Aberystwyth.