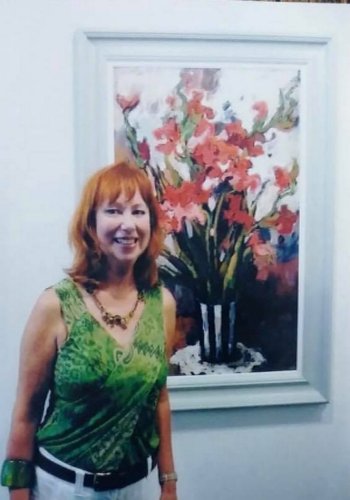 BIOGRAPHY
I was born in Kent in 1956, and in my late 20's I had a complete career change from working as a typesetter in London. I studied Graphic Design for two years at Canterbury College of Art, then went on to Brighton Art College where I graduated with a BA (Hons) degree in Illustration in 1990. In the same year I moved to Gwynedd, Wales, where I work as a professional painter.
I have won several prestigious awards for my paintings – having been twice first prize British National winner in the John Laing landscape painting competition and twice first prize winner in the Welsh Open, MOMA Wales Art Competition. I was a runner-up in the Sunday Times Watercolour Competition and in 2004 I won first prize in 'The Spirit of Llŷn' art competition and have appeared on television in a programme featuring the National Eisteddfod of Wales. I exhibit work throughout the UK including London and Cardiff.
It is ironic that I live in such a spectacularly beautiful place because it's not the 'grand view' that I am interested in painting but rather the everyday landscapes and people that I know. An old cottage or a messy corner in a garden are more appealing than a view which is 'already done', each painting becoming a piece of theatre, a subjective dramatization of the familiar. The painting process I find to be both cathartic and exciting. I encourage serendipity by working quickly and allowing the paint a certain amount of freedom – before I inevitably rein it back in again.