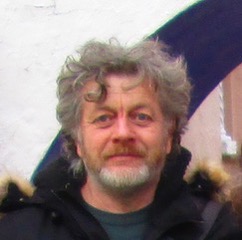 BIOGRAPHY
I was born in Accrington, Lancashire in 1958. I have a BA Hons in Geology and Archaeology from Manchester University in 1980 and completed a PGCE from Aberystwyth University in 2000. I have lived in mid Wales since 1986.
I am an entirely self-taught artist and had my first solo show at Accrington's Haworth Art Gallery in 1994. Since then I have had many solo shows round the country including at The Royal Court Theatre in London in 1995, The National Library of Wales in Aberystwyth in 1999 and Y Tabernacl in Machynlleth in 1994, 1995, 1997, 2004 and 2015. I have also shown work regularly in mixed shows all over Britain.
I have been included in the National Portrait Competition twice and won Third prize in 1993. I have painted many portraits including the playwright, Arnold Wesker and the writer, Jan Morris. I was awarded an Arts Council of Wales Travel Grant to visit Italy in 1995, won The Ailsa Owen Memorial Award at Y Tabernacl, Machynlleth in 1996 and a Gulbenkian Welsh Art prize in 1998. I have paintings in the collections of The National Museum and Gallery, Cardiff, The National Library of Wales, Aberystwyth and Y Tabernacl, Machynlleth.
I have written various articles on Art including a piece for The Guardian. I have a particular interest in the artist Thomas Jones (1742-1803) and have had pieces about him published in New Welsh Review, 2014, The Transactions of The Radnor Society, 2016 and The Transactions of The Honourable Society of Cymmrodorion, 2016. I gave a lecture on Thomas Jones' painting, A Wall in Naples, in Y Drwm, at The National Library, Aberystwyth in 2015.
I paint in both oils and watercolours and whilst I have painted many Portraits and Landscapes in the past my current preoccupation is with the genre of still life. I draw inspiration from the works of Juan Sánchez Cotán, The Dutch Golden Age, Manet and Magritte. Most have a slight edge of surrealism or symbolism. I also like to play with ideas of motion, time and serendipity.