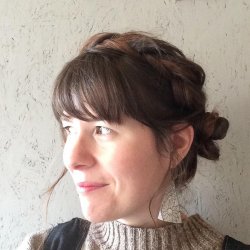 BIOGRAPHY
I'm a fine art Painting graduate from the University of Gloucestershire, Cheltenham in 2004, now settled back home in West Wales to raise my family. I first started printmaking in 2011 when I joined my local print group 'Printers in the Sticks'. As my children are getting older I'm increasingly finding the time to develop my practice and have been fortunate to exhibit across Wales over the past couple of years.
My work which can be varied in subject matter often have a common narrative of nostalgia and melancholy, memories of my own childhood in rural West Wales, fishing with my father and siblings, objects, songs and hymns, the discarded toys of my own children and the heritage and tradition of Welsh quilt work.
Collagraphs have become a firm favourite of mine as I feel a quality akin to charcoal drawing to them, a tactility, a freedom in the mark making. Tearing at the layers which result in beautiful tonal depths and then punctuating with sharp lines and staccato dots. I'm increasingly blind embossing my paper with wood cuts before printing adding a subtle second narrative to the work caught on a second glance or closer inspection asking the viewer to come in closer.
My quilt inspired prints consist of many smaller collagraph plates that make a compositional patchwork, laid intuitively, without overthinking, looking for that happy accident that is presented in the 'Reveal'.
I make my collagraphs by manipulating mount board by tearing, scratching and drawing into the surface and sealing with shellac. The collagraph is then inked intaglio, where it's smothered in ink and buffed away leaving more ink in the grooves and rough areas which gives the tonal range and linear qualities alike. The ink is lifted from the plate by it being passed through an etching press with dampened paper. All materials used are acid free and of artist quality and due to the nature of inking the plate no two prints are the same.