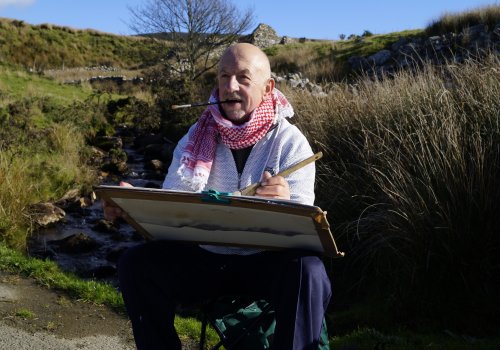 BIOGRAPHY
I am a practising artist living in North Wales where I have been working and exhibiting for the past fifteen years. My subject matter is mostly landscape or seascape.
I work in a variety of media the main one being oil paint where I enjoy its intensity of colour and mastic like qualities which enable me to apply the paint to the painting surface with brush, knife, fingers, or whatever tool seems appropriate to achieve a desired effect.
I also work in pure watercolour or sometimes adding other media to my watercolours such as pastel, charcoal and crayon on heavy watercolour papers.
I am inspired by the Snowdonia landscape in all its moods and character. My impressionistic style tries to capture that character and the ever changing colour in the seasons at different times of day. The Snowdonia climate gives rise to varied weather conditions and fleeting moments of dramatic changing light from which I draw much of my inspiration. When not painting I like to walk the hills and beaches of the area seeking subject matter. I complete some work on location but mainly work back in my studio from watercolour and pencil sketches or photographs gathered at the scene