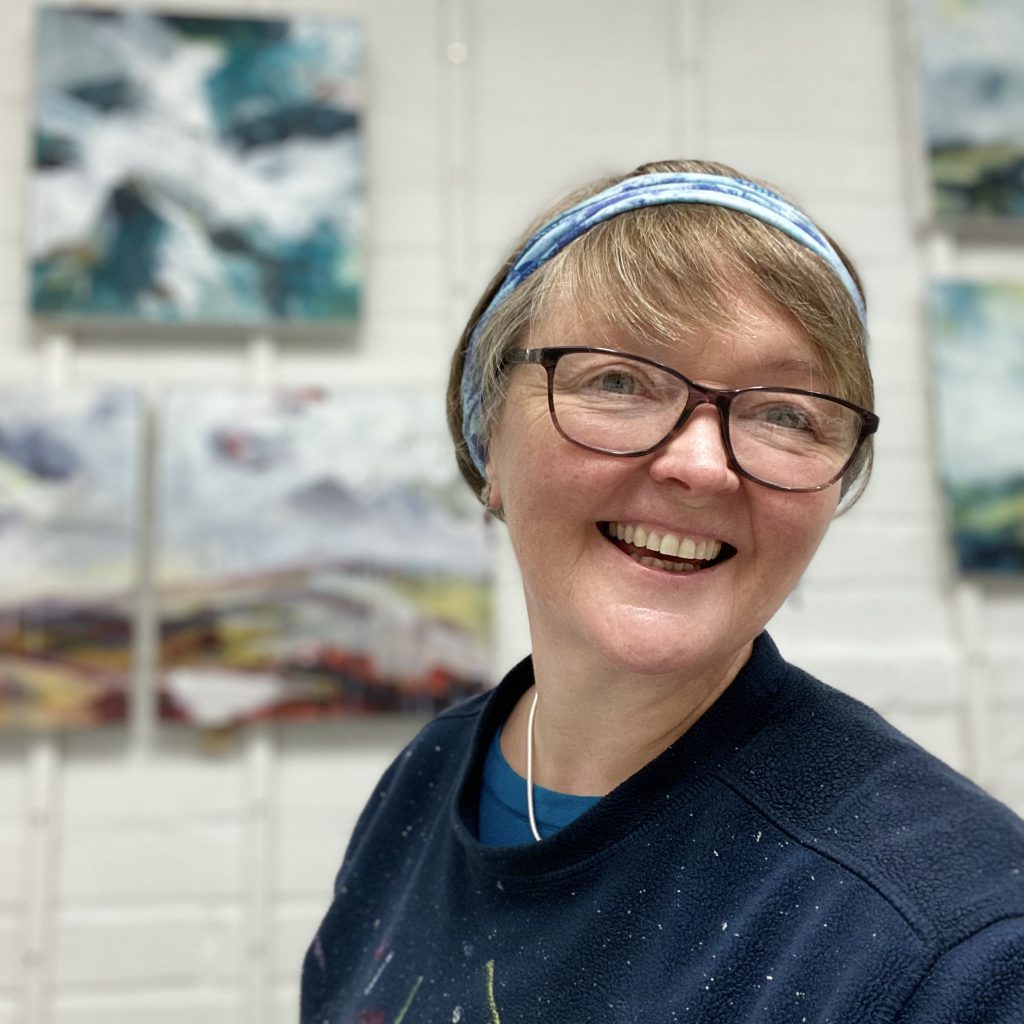 BIOGRAPHY
Creating art that evokes that sense of place.
I have always been awed by the wonders of the natural world, and it is the expression of this wonder that inspires me. I walk in our beautiful Carmarthenshire landscape most days, and even on repeated routes, it's never the same twice. Mother Nature provides incredible inspiration every day. How is it, that something as simple as the unfurling of a leaf, the sunlight filtering through seawater, or the wind scudding the clouds across the sky, can stop us in our tracks? Moments so fleeting, but so magical.
This passion actually led me away from my early artistic leanings into environmental science, and working in nature conservation for four years. It didn't take long to realise I wanted to share my love of the natural world with the next generation, which saw me becoming a primary school teacher: a job I adored, for 29 years.
Retirement 4 years ago has meant I've finally been able to combine my love of the natural world with art. My natural tendency is to create representational work with fine detail, but there is a more spontaneous, abstract artist inside me fighting to get out! I love to communicate the joy and wonder I feel when I see the colours; when I hear the birdsong; to convey that sense of freedom our wild land brings: so I am learning to control my control freak!!
I have really enjoyed working alongside some amazing artists, and have taken a number of courses to develop my skills and techniques. I still have a long way to go, I am what you might call a 'work in progress', but I am so enjoying this journey.
I love working in the landscape making marks quickly, on the large sheets of paper to focus my attention on glimpses, capturing first impressions of textures and shapes, and recording the landscape from different perspectives. Blind sketching back in the studio enables me to further abstract the landscape and focus on feelings and impressions. I love glazing, scratching and sanding through the layers to expose what lies beneath: subtleties of texture and colour that add to the overall feel of the painting. I enjoying experimenting with marks, often with materials found on my walks, and working more intuitively without an end design in mind, to bring the spontaneity of nature into my creative process.
When you look at one of my paintings, I hope you will feel the wind in your hair and hear it soughing through the trees. Sometimes you want to see an image that reminds you of a place or a moment, but at others, all you need is a combination of colours, a pattern, or a particular swipe of the palette knife, to evoke that sense of place. The natural world never fails to make me smile and lighten my heart, and I hope that my art will do the same for you.