---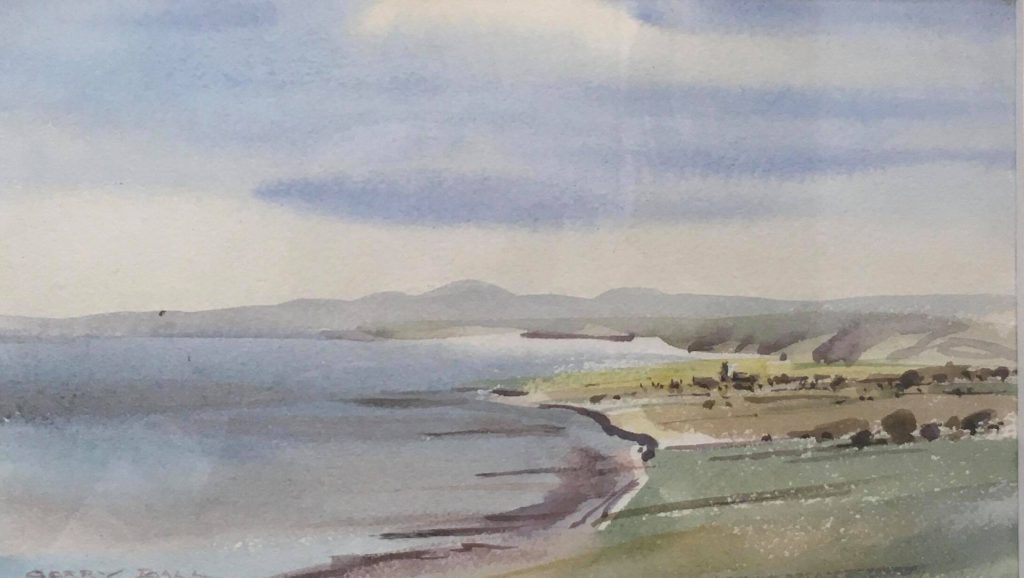 Gerry Ball
Llanon & Cardigan Bay
Watercolour, measuring 21.5cm x 13cm
£225
---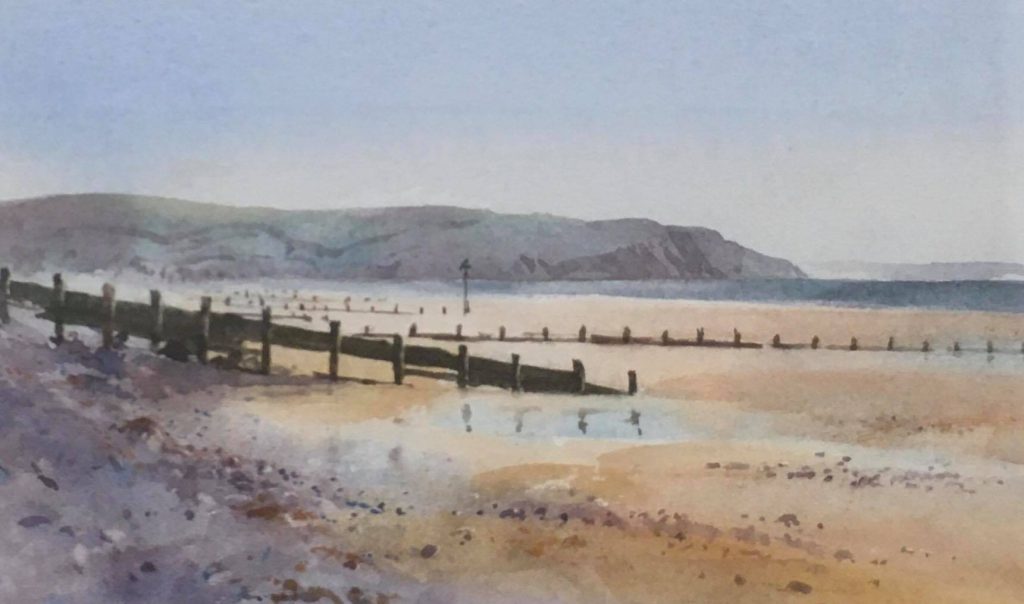 Gerry Ball
Borth Low Tide
Watercolour, measuring 24cm x 14.5cm
£275
---

Sir Kyffin Williams (1918 – 2006)
Snowdonia Waterfall
Limited Edition Print (8/100), measuring 30cm x 76cm
Sir John Kyffin Williams, OBE, RA was a Welsh landscape painter and is widely regarded as the defining artist of Wales during the 20th century.
Williams enrolled at London's Slade School of Fine Art in 1941 and having graduated he then achieved his ambition to teach art by accepting a position at Highgate School, London, where he was senior art master from 1944 until 1973. On retiring from Highgate school Williams returned to Anglesey and spent the next 30 years painting, and promoting Welsh schools of Art and Welsh art in general.
The National Library of Wales was one of the first national institutions to purchase one of his works in the late forties and continue to support his work throughout his life. In acknowledgement of his gratitude for their support he bequeath them his papers and a significant body of his works to the National Library. They now hold probably the largest single body of his works.
In 1995 Williams received the Glyndwr Award for an Outstanding Contribution to the Arts in Wales. He was awarded the OBE for his services to the arts in 1982 and was knighted in 1999.
Williams' works are held in many public collections, including the Government Art Collection the Arts Council Collection and the National Museum of Wales.
£1,500
---
Wilf Roberts (1941 – 2016)
Cottage, Red Wharf Bay
Oil on canvas measuring 68cm x 46cm
Signed 'Wilf Roberts' 1999
Wilf Roberts was raised in the Mynydd Bodafon area of Anglesey. He moved to Croydon in 1962 where he taught art and studied part time at Croydon Art College .
He returned to Anglesey in 1974 to work in Local Government and Education. In 1996 he retired and devoted his time to painting.
His work is held in public and private collections in The Hague, Paris, New York, Australia and the UK.
£3,450
---
Stephen John Owen
Cottages Rhosgadfan, undated
Mixed Media measuring 24cm x 29cm
Stephen John Owen was born in Caernarfon in 1959. He is a self taught artist whose work has been greatly influenced by his upbringing, both in Caernarfon and Church Bay Anglesey. He enjoyed art as a subject at school and was influenced and encouraged to paint by his art teacher William Selwyn. Stephen has his own unique style of painting; his passion continues to evolve and develop and he is constantly seeking inspiration from his surroundings. His paintings are well known to many and are included in many personal collections across Wales and further afield in Europe and America.
£495
---
Ivor Williams (1908-1982)
Untitled (mountain scene), undated, c.1930s
Oil on canvas board, measuring 21cm x 28cm
Signed 'Ivor Williams'.
Ivor was the son of Christopher Williams and attended the Slade in the 1930s. The picture has the very rich colour of his father's late work and shows a strong relationship to the Arenig period of J.D. Innes and Augustus John.
£400
---
Maurice Barnes (1911-1971)
Sacred Stones, undated, c.1950s
Watercolour and ink on paper, measuring 37cm x 55cm
Barnes trained at Newport and Croydon schools of art. He was a leading light of Newport Art Society and the South Wales Group. He had several solo exhibitions at Newport Museum and Art Gallery. His work from the 1950s showed the influence of Piper and Minton.
£450
---
John Petts (1914-1991)
Untitled (cliff scene). Signed 'John Petts, 1957, Penarth'.
Watercolour and ink on paper
Petts was an influential wood engraver, stained glass designer and painter who features in the Dictionary of Welsh Biography and whose archive is held in the National Library of Wales. He and his first wife Brenda Chamberlain left the Royal College of Art in 1935 and set up the Caseg Press at Llanllechid in 1937. He later worked for the Arts Council of Wales and taught at Carmarthen College of Art. His work is represented in all the major Welsh collections and his stained glass is in many buildings across Wales. He instigated the project for the people of Wales to give a stained glass window to the 16th Street Baptist Church in Birmingham, Alabama, in solidarity after an attack by the Ku Klux Klan in 1963. He often painted rockfaces and the strong use of black line in his drawings echoed his printmaking and his stained glass. The location of this subject hasn't yet been identified but it may be the cliffs at Southerndown in the Vale of Glamorgan.
£1,200
---
Dora Hurst (1925-2017)
Green Park, undated
Oil pastel on paper, measuring 28cm x 28cm
Dora Hurst studied at Cardiff College of Art in the 1950s and later became a lecturer at Cardiff College of Education. She was one of the founders of the Watercolour Society of Wales in 1963 and was also a member of the Welsh Group. The vivid opposite colours and loose handling of paint in this landscape shows the influence on her of Pierre Bonnard.
£200
---
C. Helen Tull (flourished 1970s-2000s)
Ilston Church, Gower, undated
Oil pastel on paper, measuring 7.5cm x 8.5cm
A member of the Welsh Group and the Swansea Art Society, Tull handled pastel with great skill in sensitive landscapes of her surroundings in Gower. St Illtyd's Church at Ilston / Llanilltud Ferwallt in Gower is described in the Pevsner guide as 'a picturesque agglomeration'.
£250
---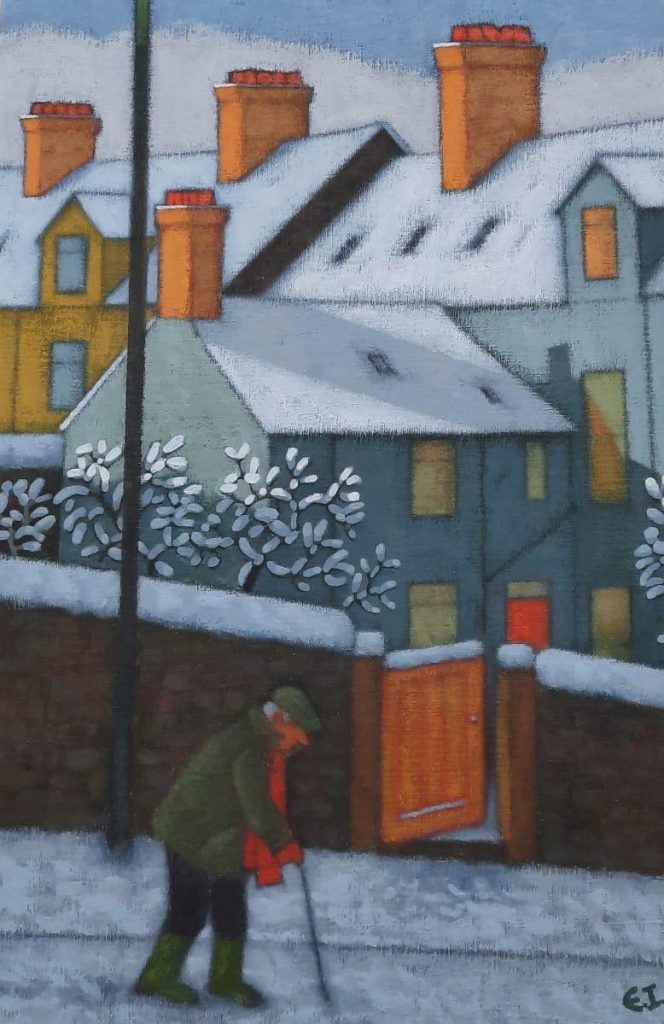 Elwyn Ioan
Dechrau Dadlaith – SOLD
---

Elwyn Ioan
Nawr te, ble ro'i hon? – SOLD
---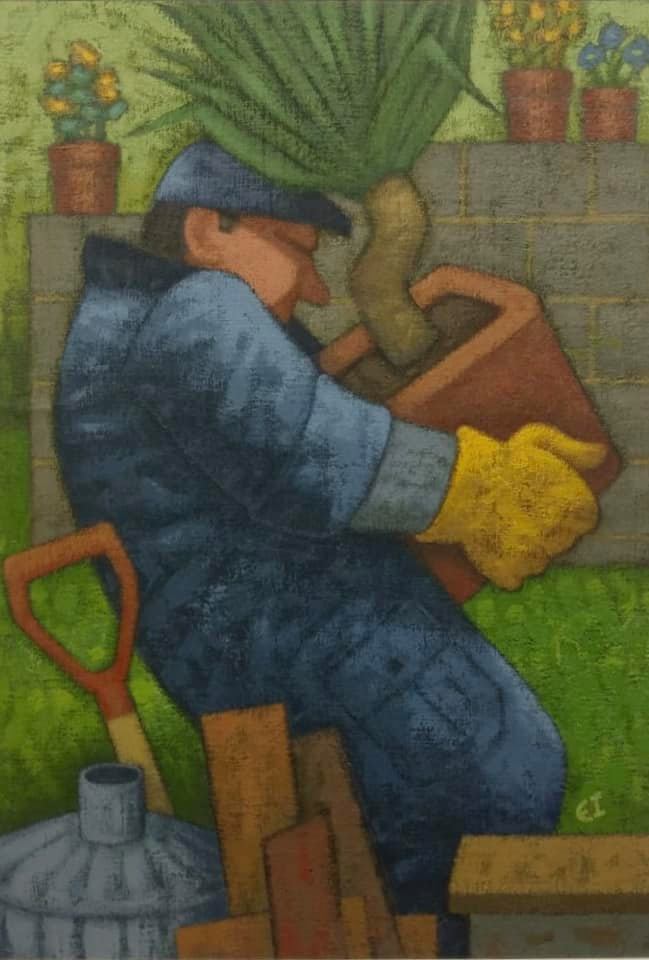 Elwyn Ioan
Gwanwyn yn y Tir – SOLD
---
Gerry Ball
The Old Harbour, undated – SOLD
---
Stephen John Owen
Evening Light, Porth Cwyfan, undated – SOLD
---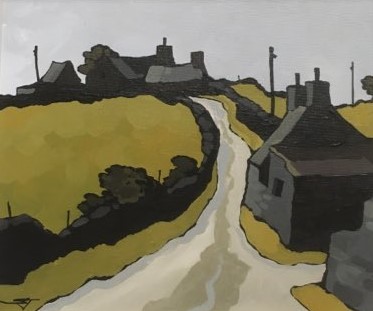 Stephen John Owen
Llanfaethlu, undated – SOLD
---
Edward Lewis (1936 – 2018)
Aberystwyth, dated 2004 – SOLD
---